WISER is excited to welcome its newest fellow Dr. Mikang (Lena) Kim from South Korea. Lena has been working in the field of simulation for 12 years with Laerdal as an Educational Service Specialist. During her time with Laerdal, Lena earned her Master's from Chung-Ang University, with her Master's thesis being a study on debriefing in Simulation-Based Education. Upon completing her Master's, Lena went on to receive her PhD in Nursing at Chung-Ang University where she just graduated this past February!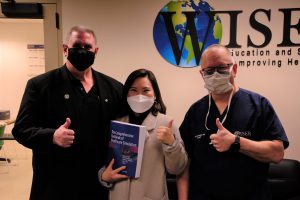 Lena spent two years as a Diabetes Education Nurse, two years as a Blood Collecting Service Nurse in the Red Cross, and another two years as a Staff Nurse in MICU of University Hospital. Not only does she have experience as a practicing nurse, Lena also managed to find time to be a part time lecturer at both Chung-Ang University and Ewha Womans University. Over the years, Lena has attended many simulation conferences as an instructor, speaker, facilitator, and attendee.
Coincidentally, Lena attended the Korean Society for Simulation in Healthcare Annual Scientific Meeting Conference where WISER's Director, Dr. Paul Phrampus, was a speaker. Upon meeting Dr. Phrampus, Lena's views of simulation broadened, encouraging her to learn more about simulation. Over the years, Dr. Phrampus has visited Korea many times and Lena had the opportunity to support his workshops and attend his lectures. Dr. Phrampus has become one of Lena's mentors and encouraged her to apply for our fellowship program.
Lena has a lifetime goal of becoming a leader in Simulation-Based Education which is why she has come to WISER to start her year long fellowship. While here at WISER, Lena hopes to learn advanced education ideas for teaching, information technology, administration, curriculum development, IPE (Inter Professional Education), VR/AR Simulation, debriefing, and learn about the operations at WISER. She will also work towards achieving her CHSE (Certified Healthcare Simulation Educator).